The Community Festival marked the culmination of BYAP's 30th anniversary events. Featuring a line-up of established artists and new and emerging talent, this event offered visitors an opportunity to sample a range of different musical performances, including rap, samba, new age, punk and rock.
The festival took place on Saturday, 26th March, at the plaza in Ballymun, and local comedians Dean Scurry and Eric Lalor were on hand to MC the event.
The festival was programmed in conjunction with local artist Q (Colm Quearney).  To see the running order for the festival, click here.
MCs
Dean Scurry
Dean Scurry is a youth worker, video producer, community activist, arts facilitator, stand-up comedian and entrepreneur from Dublin.  He is a founding member of The House of Fun Comedy Club and has been gigging regularly across Ireland and the UK since 2005.
Dean initially made a name for himself as a comedian when he took part in Des Bishop's 'Joy In Da Hood' television show in 2005.  Since then, he has performed with the likes of Tommy Tiernan and Andrew Maxwell, and had his Edinburgh Fringe Festival debut in 2008.
As an arts facilitator, Dean has worked on a variety of projects with axis Ballymun, including Invent, The Music Ensemble and the hugely original HipNós.  He is currently working in association with axis on a number of arts and music projects.  He has been involved in the Ballymun community as a youth worker and activist for 20 years.
Click here to see Dean Scurry in action.
Eric Lalor
Local comedian Eric Lalor has been doing stand-up comedy since January 2005. He was introduced to comedy by Des Bishop when he appeared in his 'Joy in the Hood' television programme.
Eric toured as Des Bishop's support during his record-breaking 'Fitting In Tour' (2005 / 2006), including a show in front of 5,000 people, 'Live at the Marquee'.
He has worked with some of the greatest comedians in Irish comedy, including Des, Jason Byrne, Tommy Tiernan, Neil Delamere, Andrew Maxwell, and he has also worked as a warm-up comedian on RTÉ's 'The Late Late Show'.  To see an an interview with Eric Lalor, click here.
Children's Entertainment
A range of children's entertainment was on offer for young visitors to the festival, including balloon art and free face-painting from Marvellous Faces and freelance face-painter Jennifer O'Brien. The clown Janey Mac was also on hand to keep children entertained.
The line-up for the festival included:
Christy Dignam and Joe Jewell (Aslan)
Christy Dignam
Christy Dignam is the lead singer of the popular Irish rock band Aslan. He was born in Dublin in 1960, and grew up in the north Dublin suburb of Finglas.
He studied the classical art of Bel Canto, singing with teacher Frank Merriman at the Bel Canto House School of Singing in Dublin, Ireland.
Aslan, who took their name from the heroic lion in C.S. Lewis's series of books chronicling the fictional land of Narnia ('Aslan' is the Turkish for 'Lion'), emerged from Finglas and Ballymun in Dublin's Northside in the mid 1980s.  They released a demo single, 'This Is', in the Spring of 1986, which was a huge hit and became the longest-ever play-listed single on Ireland's pop radio station, RTÉ 2fm.
In 1988, they recorded their debut album, 'Feel No Shame', which shot straight in to the No.1 spot of the Irish charts and remained there for weeks.  Within a couple of months, it was certified Gold.  Then, in August 1988, just as the option for their second album had been picked up, Aslan infamously imploded, torn apart by overindulgence of all kinds.
Five years and a day to the last time they gigged together (on 11th July 1993), they played what was supposed to be a one-off charity gig in Finglas; the spark was reignited and Aslan landed a new record deal with BMG.  The first fruit of the deal, their single 'Crazy World', entered the charts at No. 4 and stayed in the charts for three months, becoming one of the most-played songs on Irish radio for the year. 'Crazy World' also won the 'Single of The Year' in 1993's Hot Press Awards.  A few months later, the follow-up single 'Where's The Sun' reached No.3 on the chart.
Since then, Aslan have continued to perform and tour throughout Ireland and beyond.  They are now considered one of Ireland's best-established and hardest-working bands.
Joe Jewell
Joe Jewell is the Dublin-born lead guitarist of Aslan.
His career of over 25 years has been characterised by numerous successes on the Irish charts.
He co-wrote many of the band's finest songs, including 'Crazy World', 'This Is', 'Where's The Sun?' and 'Hurt Sometimes', to name but a few.
He also wrote the memorable riffs behind the songs, and is the falsetto backing vocalist behind Christy Dignam in the band.
During the late 1980s and early 1990s, when Aslan had temporarily split up, Joe was a member of The Precious Stones and sang vocals, most notably on 'Jesus Says He Loves Me'.
During live performances, he uses Takamine acoustic guitars and a Fender Telecaster.
Garry O'Brien
Fresh from a tour with his hero, Damien Dempsey, throughout Ireland – in venues like Spirit Store and Drogheda Arts Centre – Garry O'Brien has gone from support act to headlining his own packed show in one of Irelands premier music venues, Whelan's.
Garry's uniquely diverse playing style – fusing Irish trad, gospel and folk – has won over many admirers and attracted an ever-growing fan base.  Describing Garry, top Irish music critic, Oliver Sweeney of Hotpress magazine, said, "A writer whose songs invite favourable comparisons with the best of Damien Dempsey's work, and that of Mundy, his future is bright beyond compare".
Garry's talents have been honed during his work with Kevin Kelly and the award-winning Our Ladies' Gospel Choir (Best All-Ireland Gospel Choir 2010).   To find out more, and to listen to his music, visit his Facebook Page.
Niall O'Shea
A native of Ballymun, singer / songwriter Niall O'Shea released his debut album, 'Inner City Dogs', in September 2010.
Before writing the album, Niall played in a variety of musical ensembles and travelled the world for a number of years.  'Inner City Dogs' was inspired by his journeys across the globe and was recorded in the Qube studio in Dublin.
Niall's songs span a range of genres, including rock, country and blues, and his work is inspired by musical greats such as Led Zeppelin, Dire Straits and U2.
For more information on Niall O'Shea, and to listen to his work, click here.
Declan Crawford and Friends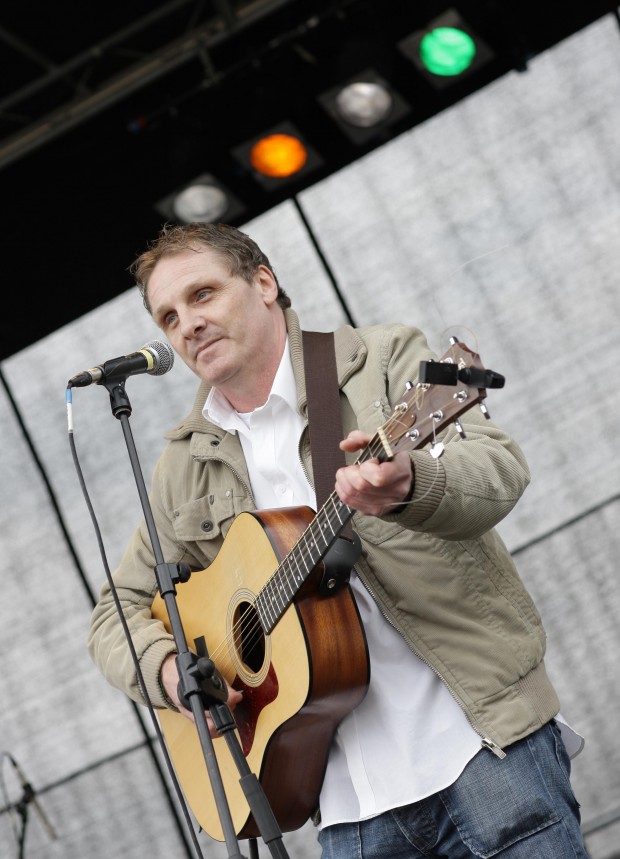 A veteran of the singer / songwriter scene in Dublin, Declan, who hails from Ballymun, entertained visitors to the festival with his special sound.
Declan has played with a range of bands during his career, and has supported Aslan on many occasions during their tours in Ireland.
Ciaran Moran
15- year-old Ciaran Moran is an up-and-coming singer / songwriter from inner city Dublin. He has been playing music since 2009.
To date, Ciaran has played support to artists such as Damien Dempsey, and his performance at the festival offered visitors an opportunity to sample the sound of this emerging talent.
Ciaran is also involved in the Bradóg Regional Youth Service.
To find out more about Ciaran, visit his Facebook Page.
Coldstone
Formed in 2009, local Ballymun band Coldstone is a three-piece band that plays rap, experimental music, new age, metal and funk.
To date, as well as performing at our festival, Coldstone has played in the axis centre in Ballymun; Meeting House Square in Temple Bar; and at the Arklow Seabreeze Festival in Wicklow.
The band is currently working on new tracks and a number of cover versions. They are also involved in the Ballymun Regional Youth Resource (BRYR) Music Club.
To find out more about Coldstone, please click here.
DeXtra
Four-piece band, DeXtra is a rock and pop band hailing from Ballymun. Inspired by bands such as the Stone Roses and ELO, DeXtra plays a mix of pop, rock and indie.
DeXtra is currently working on new material and gigging around Ireland.
To listen to their sound, click here.
Dean Doonan (Must Try DnD)
Dean Doonan is a rapper from Finglas and one of the founding members of local six-piece band, Must Try DnD.
Dean featured on the television show 'Ireland's got Talent' in January 2011, where he got through to the final round.
Formed in 2010, Must Try DnD plays a mix of hip-hop and rock. To date, the band has played with Aslan, one of North Dublin's most successful bands.
To find out more about Dean Doonan and Must Try DndD and to listen to their sound, please click here and here.
Munch
Ten-piece samba band Munch played an energetic and uplifting set at the festival.  The band members have played together since 2007.  They hail from Ballymun and are involved in the BRYR Music Club.
Munch's performance offered visitors a chance to sample a uniquely Irish version of samba music.
Street Literature
Street Literature is a four-piece hip-hop group whose members hail from Ballymun and Finglas.
The band is set to release their debut album on the Working Class Records label later this year.
Street Literature's music is influenced by hip-hop greats, including the Fugees, Arrested Development, Digable Planets, Kool Keith / Dr. Octagon and MF Doom.
To find out more about Street Literature, and to listen to their sound, click here.
Sappy

Formed in 2008, three-piece band Sappy wants to bring grunge back to the top of the charts.
Sappy – whose members hail from Ballymun – play grunge and rock as an alternative to other music.  They are also involved in the BRYR Music Club.
To listen to Sappy's sound and find out more, click here.
That's What She Said
Newly-formed four-piece act, That's What She Said, took to the stage for the first time at the community festival.
That's What She Said hail from Ballymun and play music ranging from pop and punk to R'n'B.
Their debut performance offered visitors an opportunity to sample the sound of That's What She Said for the very first time.
The band met through the Ballymun Recreational Centre.
To find out more about That's What She Said, click here.
The Unknown
The Unknown is a newly formed four-piece band from Ballymun. The BYAP festival was their second gig, and they impressed visitors to the event with their energetic and professional performance.